A Beginners Guide to Ion-Selective Electrode Measurements
Chris C Rundle BSc, PhD. (Nico 2000 Ltd, London, UK.) Biography of author
Any comments or suggestions for improvement? : Please Email nico2000ltd@gmail.com
Printer-friendly PDF version ( 30 x A4 pages. Mainly text - only a few illustrations. )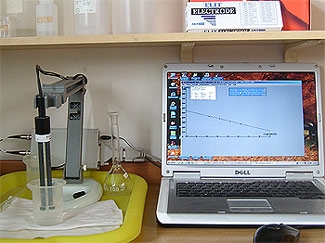 CONTENTS
1) FOREWORD, RATIONALE AND ACKNOWLEDGEMENTS
2) INTRODUCTION TO ION SELECTIVE ELECTRODES
a) Applications.
b) Advantages
3) BASIC THEORY OF ISE MEASUREMENTS.
a) The pH Electrode.
b) Differences Between pH and Other Ion-Selective Electrodes.
4) TYPES OF ION SELECTIVE ELECTRODES
a) General Discussion.
b) Crystal-Membrane Electrodes: e.g. Fluoride.
c) Impregnated-PVC-Membrane Electrodes: e.g. Potassium.
d) Care and Maintenance of ISEs.
5) REFERENCE ELECTRODES
a) The Silver / Silver Chloride Single Junction Reference Electrode.
b) Double Junction Reference Electrodes.
c) Liquid Junction Potentials.
d) Combination Electrodes.
e) Multiple Electrode Heads: Separable Combinations.
6) LIMITATIONS and CONSTRAINTS
a) Ionic Interference and Selectivity Coefficients.
b) Ionic Strength and Activity Coefficients: Activity versus Concentration.
c) Ionic Strength Adjustment Buffers.
d) Potential Drift.
7) CALIBRATION THEORY
a) Linear Range.
b) Total Measuring Range.
c) Limit of Detection.
8) CALIBRATION PRACTICE
a) Standard Solutions.
b) Minimising Drift Effects During Calibration.
c) Frequency of Calibration.
9) MEASURING PROCEDURES
a) Adding ISAB.
b) Taking Readings and Minimising Drift Effects.
c) Cleaning Electrodes and Minimising Hysteresis Between Samples.
10) METHODS OF ANALYSIS
a) Direct Potentiometry.
b) Incremental Methods: Standard Addition, Sample Addition & Subtraction.
c) Potentiometric Titrations.
11) ACCURACY AND PRECISION OF SAMPLE MEASUREMENTS.
a) General Discussion.
b) Reproducibility Experiments Using an Ammonium Electrode.
c) Reproducibility of Chloride Measurements.
d) Standard Addition & Sample Addition Methods.
e) Conclusions from Experimental Data.
12) TYPES OF MEASURING DEVICES AND DATA PROCESSING
a) Analogue Meters.
b) Digital Meters.
c) Self-Calibrating, Direct-Reading Ion Meters.
13) RECENT DEVELOPMENTS
a) Meterless Computer Interfaces.
b) Data Processing Software.
c) Multi-Component Analysis.
14) RECENT RESEARCH INTO CORRECTIONS FOR INTERFERING IONS
a) Rationale and Problems.
b) Creating a Calibration Net.
c) Interfering Ion Correction Software.
APPENDICES - Available at www.nico2000.net.
A) GLOSSARY OF TERMS AND CALCULATIONS
B) INTERNET LINKS & BIBLIOGRAPHY
Including over 100 links to Research Papers and Articles about
Ion-Selective Electrode theory and practice available on the WWW.
C) OPERATING INSTRUCTIONS FOR ELIT ION-SELECTIVE ELECTRODES
Includes all the latest updates
D) CATALOGUE OF NICO2000 ELECTROCHEMICAL PRODUCTS (pdf) .
7 x A4 pages with illustrations.
E) MS "POWER POINT" PRESENTATION
About ELIT Ion Analyser Systems.
F) DEMONSTRATION SOFTWARE FOR ELIT ION ANALYSERS
Download or request a free CD
ELIT Ion Analyser Systems
ELIT Ion Analyzers measure ion concentrations, pH, Temperature, Redox (ORP) in aqueous solutions.

Multi-channel versions permit continuous, simultaneous monitoring of different sensors in one solution or in several different solutions at the same time.

Based on proven Ion Selective Electrode Technology.

Versions available for also monitoring Dissolved Oxygen (DO), Conductivity and Biosensors.

Connect sensor electrodes directly to a lap-top or desk-top PC - no need for conventional meter.

Software available for any generation of Windows-based PC.

Complete system includes: Ion Selective Electrode, Reference Electrode, Electrode Head, pH electrode, Temperature Sensor, Electrode-Computer Interface, Ion Analyser Software, Comprehensive Instructions.


APPLICATIONS:

Water Quality Analysis: surface and ground waters, fish ponds, aquaculture, sewage, industrial effluent.
Food and Drink Quality Control, Bio-reactors and Fermentors.
Pharmaceutical Research, Agricultural Research, Medical Research,…etc.